Peloton's Tunde Oyeneyin On Wellness, Burpees, & Dog Cuddles
The cycling instructor spills her self-care practices and go-to energy-boosting snack.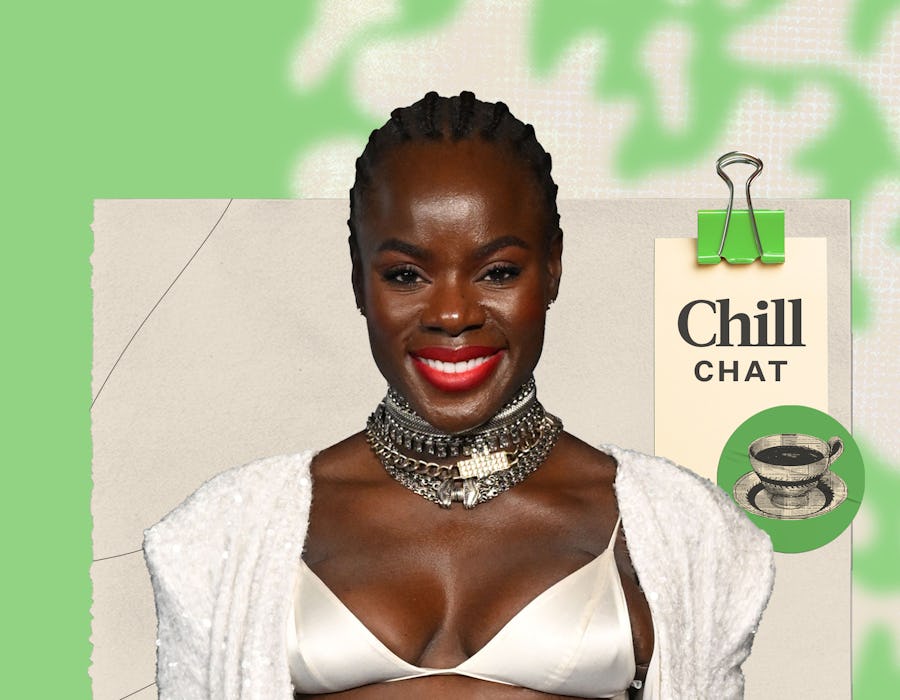 In Chill Chat, Bustle sits down with stars to chat about all things wellness, from their favorite skin care products to their hacks for getting a good night's sleep. Here, Peloton instructor Tunde Oyeneyin shares the workout she loves to hate and how she tackles her endless to-do list.
Peloton cycling instructor Tunde Oyeneyin has the exact personality you want to see while furiously pedaling at 7 a.m. She's peppy, encouraging, and, as an ex-makeup artist of 15 years, even looks amazing as she coaches you through sprints. "I may be in workout clothes and sweating at 100 mph, but I'll wear mascara and lip gloss because I want to show up at my best," the 36-year-old tells Bustle over Zoom.
After kicking everyone's butt in class, Oyeneyin hops off her bike and continues going 100 mph through the rest of her day. After all, she's also an author — her book Speak: Find Your Voice, Trust Your Gut made the New York Times bestseller list — as well as a Nike athlete, motivational speaker, and devoted dog mom. If that sounds like a lot, it is. "I'm a human being. I get super stressed," she says. "I just have to find unique ways to manage my stress."
To keep herself organized and reclaim her time, Oyeneyin swears by Pocket, an app that lets you bookmark interesting articles and interviews to read later (she's currently serving as their guest curator, too). She's also established a routine that includes grounding practices, meditation, and proper recovery to ensure that she's ready to teach another Peloton class.
Here, Oyeneyin talks about her morning routine, her love/hate relationship with burpees, and the reason why she sings to her dog.
What does your typical morning routine look like?
The first thing that I do, without fail, is hold my dog Caesar. We have a little cuddle fest. I sing a morning song to him just so that he knows it's a new day. Then, on a really good day, I take a moment to practice meditation.
I'm being more mindful about making sure I don't look at any technology for 30 minutes after I wake up. I need that because the morning is the only time I have to myself. After that, I open up my email and start to chip away at my to-do list.
What do you like to have for breakfast?
I've been on a matcha kick lately, so I'll have that and some water. I'm not much of a breakfast eater unless I'm about to teach a boot camp and kick a whole lot of people's butts, including my own. I do love breakfast food, though, so even if I end up eating closer to lunchtime, I'll have scrambled eggs or scrambled egg whites with coconut oil. I try to have a good balance of protein, carbohydrates, and fat. I also love having a sweet potato or avocado for energy.
What are your favorite kinds of workouts?
I love the bike because it can be very meditative — it's like a moving meditation. But I also like strength training. If I had to choose between cardio and strength, I love strength. I love heavy things in my hands.
Is there a workout that you hate?
Honestly, I hate running but I do it because I hate it. I also hate burpees, but I do them all the time because I hate them. My thought is, if I hate an exercise, it's probably my body's way of telling me I need it, so I often prioritize it. If you asked me a year ago what I hated most, I would've said burpees. But I think I actually somewhat enjoy the burpees now. [Laughs]
As I do burpees I say to myself, "Fall down, get up, fall down, get up, now fall down." I can fall down — that doesn't take much effort. Then I tell myself to get up. I literally repeat that mantra to myself. If I'm doing a hundred burpees, I say it 100 times.
What do you do to recover from all those burpees?
What you're fueling your body with after your workout, about 20 to 40 minutes afterward, is crucial. I'm a huge fan of protein, like from Optimum Nutrition. Recovery is important not only when you're trying to build strength or muscle, but in terms of being able to get back and do it all again the next day.
What about hydration? Are you someone who carries a water bottle everywhere you go?
I totally wish I was but I'm really bad at it. I eventually get all of my water in for the day, but I have my moments when I look at the clock and realize that it's 6 p.m. and I'm not even halfway through my water for the day. That's something I'm trying to be more mindful of.
How do you stay on top of your to-do list?
I prioritize the things on my to-do list into green, yellow, and red, or cold, warm, and hot. The things that are hot — aka the things that are red — have to be done today. I'm not sleeping until those things are done. I hope to get to the yellow items, while the cold or green items would be nice to do but aren't as important. This practice works for me, because I know that I checked off the most pressing things.
What does your bedtime routine look like?
I like to cuddle with my dog. He hates cuddling with me at night, but it helps me fall asleep. I also try another meditation with the Peloton app, which is really nice.
What is your overall approach to wellness?
Allow your wellness practice to meet you wherever you are. If it feels like you aren't making progress toward a goal, you might give up and stop trying. Rather than compare yourself to what you were yesterday, last week, or last year, or where you hope to be tomorrow, try to be OK with where you are right now.
There will be setbacks, and your progress won't be linear. It can be frustrating, but if you're gracious enough with yourself to acknowledge that there are ups and downs with fitness, it makes for a much more peaceful life.
This interview has been edited and condensed for clarity.