Sydney Sweeney's Wellness Routine Includes Cars & Ice Cream
The Euphoria star chats about wellness, her Ford, and how she deals with stress.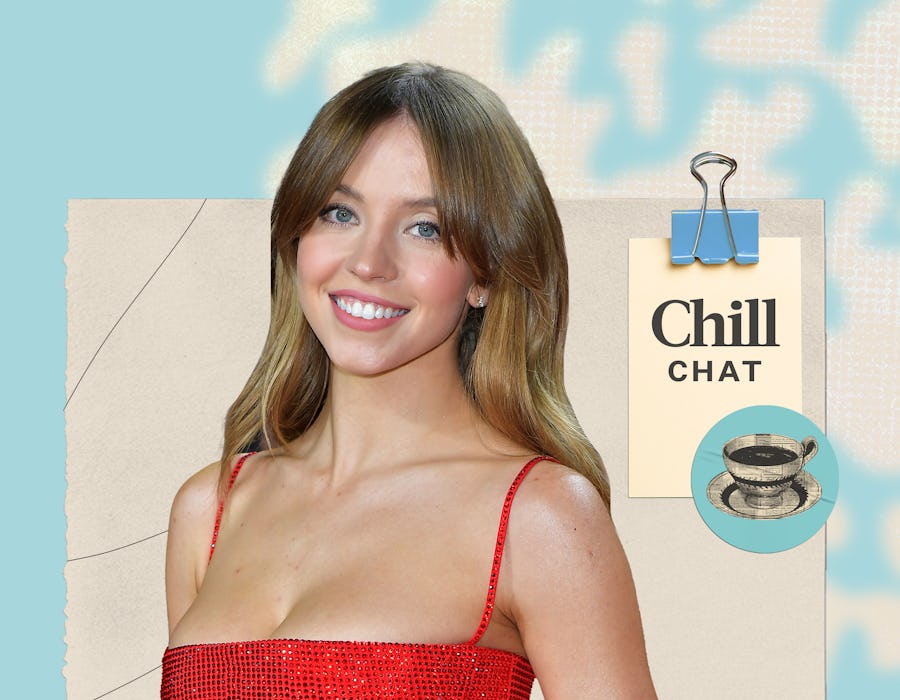 In Chill Chat, Bustle sits down with stars to chat about all things wellness, from their favorite skin care products to their hacks for getting a good night's sleep. Here, Sydney Sweeney talks about her love of cars, her go-to ice cream order, and her favorite way to sweat.
On screen, Sydney Sweeney has played characters that cater to the male gaze (Cassie Howard on Euphoria, Olivia Mossbacher on White Lotus), but IRL she's wielding her skills in male-dominated spaces. Case in point: her penchant for restoring cars. Specifically, the star is passionate about refurbishing her 1969 Ford Bronco, a dream purchase she made at the beginning of lockdown. "I've always believed that knowledge is power, and being able to know the mechanics behind your car and how to fix it is super important to me," she tells Bustle. "I don't like having people do things for me."
You may have come across Sweeney's hobby on TikTok, where the actor has a dedicated account (cutely dubbed @syds_garage) for showing off her expertise. It's apropos, then, that she got to collab with Ford on its latest campaign, as well as Dickies for a Ford x Dickies workwear collection — the latter of which almost entirely sold out within 24 hours of its launch. "This [campaign] is so perfect and so me because I'm getting to share something that is so personal," Sweeney says.
The star shares that she actually grew up around cars, too. "I have uncles that are mechanics, my cousins are mechanics — I kind of grew up always in that space," Sweeney tells Bustle. Now, her prized Bronco has become a key part of her self-care routine. Here, Sweeney chats about how her car fits into her wellness regimen, how she starts her mornings, and the one thing she always needs in a salad.
Walk me through your morning routine.
I like to wake up early and do my skin care routine. I like to put some eye gels on and ice roll my face, then I'll take my dog, Tank, for a walk or we'll go for a drive. She is obsessed with the Bronco because she can see everything, and so I'll take her for drives if I have time and we'll go get something for breakfast.
Are you a coffee person?
Actually, I've never had coffee. I only drink water. My parents loved coffee and soda, and I just was like, I can't do it.
What are your go-to forms of self-care?
Working on my car. When I was filming Euphoria, I was restoring my Bronco, so if I wrapped early or had a day off, I would go into the shop, put on my overalls and a hat, and go to work on it.
What have you learned about yourself by working on your car?
I'm definitely a perfectionist. When I was working under the hood and trying to fix and clean up the mechanics underneath the car, I spent weeks wire brushing and trying to clean the underside. My friend once came up to me and was like, "What are you doing? No one is going to see this." And I said, "But I know it's there." I learned that no rock was unturned for me.
Are you like that in your house? Are you really into deep cleaning?
I love a good deep clean, yes.
What's an ingredient that you'll always put in a salad?
Probably some sort of protein, like salmon, chicken, or steak. I'm a proportion person when it comes to salads — it has to have a little piece of everything in every bite. So if I finish my chicken and there's still lettuce left, I have to get more chicken. I can't eat just the lettuce.
I definitely feel you on that. What's your favorite workout right now?
Going to the shop and working on my car is a great workout, to be honest. The core and upper body strength that you have to have to be able to carry some of these pieces or hold different tools while you're working on a car is an amazing workout. I saw muscles in my shoulders and my arms I didn't even know I had.
How do you deal if you're feeling really stressed or overwhelmed?
My dog, Tank, is such a great emotional support buddy. She's always been there for me. And, like I said, when I was filming Euphoria — which is such an emotional show — going to the shop provided a great balance for me, as it let me close off the rest of the world and just work on my car.
How do you like to wind down at the end of a long day?
I love to go for a ride and go get ice cream and just take in whatever city I'm in.
What's your ice cream order?
OK, I have a very specific order: I like a waffle cone that has some chocolate around the top with some sprinkles and rainbow sugar ice cream with some gummy bears in it. If you can tell in the [Ford] campaign, that is what I'm eating — when I tell you this campaign is truly the most me, I really mean it [laughs].
This interview has been edited and condensed for clarity.