I Tried A New Therapy App & My Mental Health Has Never Been Better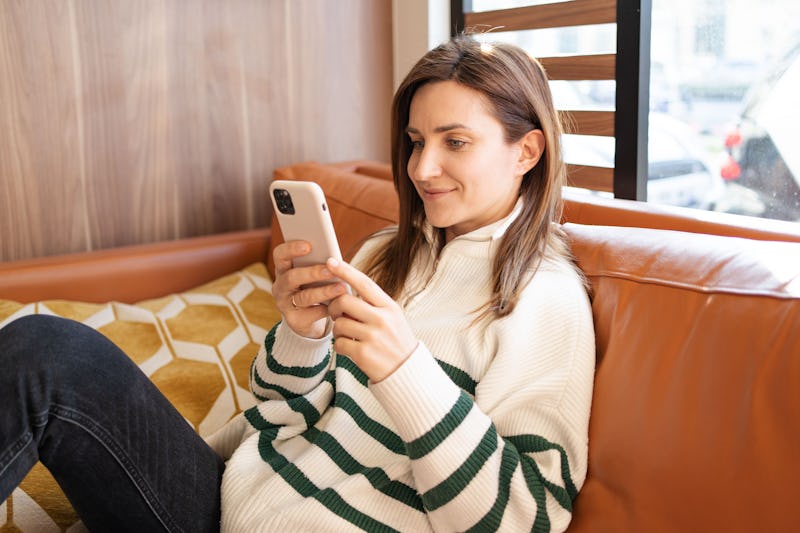 Shutterstock
I'm a big fan of therapy, but I can't help but notice that many sessions go something like this: You have 45 minutes to chat with a therapist and somehow, within that time period, you find yourself mentioning your childhood, anxiety, depression, that thing that happened in high school 10 years ago, and your relationship. Before you know it, the time is up, it seems like you've addressed everything and nothing, and then you're thrust back into the world without any resolution.
Not only is this routine exhausting, but it also doesn't seem like the best way to reach your therapy goals. It's why I was intrigued by the idea of Real, a mental wellness app that keeps you focused by using what it calls pathways, aka therapist-created digital programs that address one topic at a time, including things like anxiety, identity, communication, and career.
Since I'm a firm believer that everyone could use a little more therapy — it's great when it actually works! — I decided to give Real a try for a month to see what I could learn and to see how it differed from more traditional therapy experiences. And you know what? I was super into it. Keep reading for more info about Real, what it does, and what it's like to use the app.
Fast Facts
Price: $23.99/month, $164.99/year
Best for: Affordable therapy, specialized therapy, anxiety, identity, relationships
My rating: 4.5/5
What we like: Easy to use, inclusive, affordable
What we don't like: The case studies aren't always the most relatable
What Is The Real Therapy App?
Real
Founded by mental health expert Ariela Safira, Real is designed to help you build a stronger relationship with yourself using wellness tools, guided exercises, and a supportive team of licensed therapists. You'll work with all of them or just one or two, depending on your goals.
The Real app offers wellness check-ins, virtual events with therapists, and on-demand exercises called Moments that are meant to guide you through tough times, like a bout of stress, a sleepless night, or an argument with a partner.
The big draw, though, is the Real Pathways. These longer programs use interactive media like videos and case studies as well as clinically-proven strategies, like cognitive behavioral therapy, to help you out. Each one focuses on a specific mental wellness topic, like anxiety, depression, relationships, identity, career, etc.
The Pathways are:
Getting to Know Yourself
Meeting Your Body Where It's At
Working With Your Depression Inside and Out
Navigating Adult Friendships
Communicating Like a Damn Good Partner
WTF Am I Doing With My Career
What to Do With All This Anxiety
How To Use The Real App
When you first log into Real you'll answer a series of questions to get your "Real Pulse" or snapshot of how you're doing at that exact moment. It asks you to rate things like your sense of belonging, motivation, productivity, mood, energy level, anxiety, self-esteem, and optimism. The idea is to see how your Real Pulse fluctuates throughout your wellness journey.
From there it's up to you to scroll through the app and see what you need. You can move through the eight-session Real Pathways, click on a Moment, check out anonymous therapy events — there was one hosted by therapist Naiylah Warren called "Grounding Together" — or check-in with yourself under the Toolkit tab where you can write notes or journal entries.
Real offers all of these tools to help you navigate things like anxiety, body image, career, depression, feelings, friendships, identity, and relationships. The therapists (there's one that works with each pathway) on the platform set you up with actionable homework assignments and things to consider after your Pathway sessions. The app even has a place where you can journal. It all adds up to a lovely, all-inclusive therapy experience that has something for everyone.
My Experience
After I got my Real Pulse, I toggled on over to the Real Pathways to see which one jumped out. I went with Getting to Know Myself, which falls under the identity category. The description is: "Every good relationship is built on a foundation of trust and understanding — including the relationship you have with yourself. Ready to explore all things you?" Um, yes.
Designed by licensed therapist Julia Jarrold, this pathway is meant to be a jumping off point for other types of therapy. It also teaches you ways to show up for yourself and establish self-trust, which sounded pretty nice TBH. In the intro audio, Jarrold noted that it's often tough to know who you are as a person, especially since you're always changing. And that felt super validating.
To kick things off in Session 1, Jarrold dove into all the various identities a person can possibly have using the super-interesting "social location model", during which she encouraged me to think about my ethnicity, gender identity, socio-economic status, age, and first language.
Jarrold then moved on to topics like nature, nurture, and life experiences. I thought this was a simple yet interesting exercise, and I liked that it would obviously feel unique and personalized to everyone. Once those bases were covered, we dove deeper into values, trust, connecting with others, and all the other parts of an identity that make me me.
Through each session, Jarrold's gentle approach really stood out. Using an extra calm and welcoming voice, she'd ease me into each lesson with a mini grounding exercise that got me settled and in the right frame of mind to be therapied.
From there, whether she was explaining a basic concept or something more intricate, she kept things conversational and easy to understand yet still intriguing. I found myself grabbing for my notebook to jot down ideas that made me gasp. (In my opinion, that's always a sign of good therapy.) I also appreciated the way she included thought-provoking examples and case studies to help explain concepts, even if they didn't always perfectly apply to me.
The best part, though, was the "Real 3, 2, 1" breathing exercises at the end. The amount of times a therapist has cut me off mid-cry to say my time was up is too many to count. But, instead of being hurried out a door or off a Zoom, Jarrold slowly directed my attention back to the room — the same way a yoga teacher ends a meditation — and had me take three deep breaths before the session ended. It made the session have a clear start, middle, and end, so I felt OK afterward to go on with the day.
The Results
After trying Real for a month, I've decided the setup truly works for me. Because you get to do each session at home and at your own pace, it feels like the concepts have time to sink in and work a bit better than they typically do during traditional therapy — for me, at least.
I'd wait a few days between each session, write down notes, and let it all marinate before I went back for more. I was also into the post-video Reflections and Challenges. These "homework assignments" give you actionable things to try out in real life so you can actually apply what you learned. How cool is that?
I highly recommend Real because of the topics it covers, the easy-to-use setup, the welcoming approach, and the way that it's different from regular therapy. I plan to delve even deeper into the app to see what other Pathways I should try. Something tells me when I check my Real Pulse again in a few months, I'll like what I see.