Of Course Hoka Makes The Perfect Trail Running Shoe
The sport is growing in popularity — lucky for you, that means new shoes.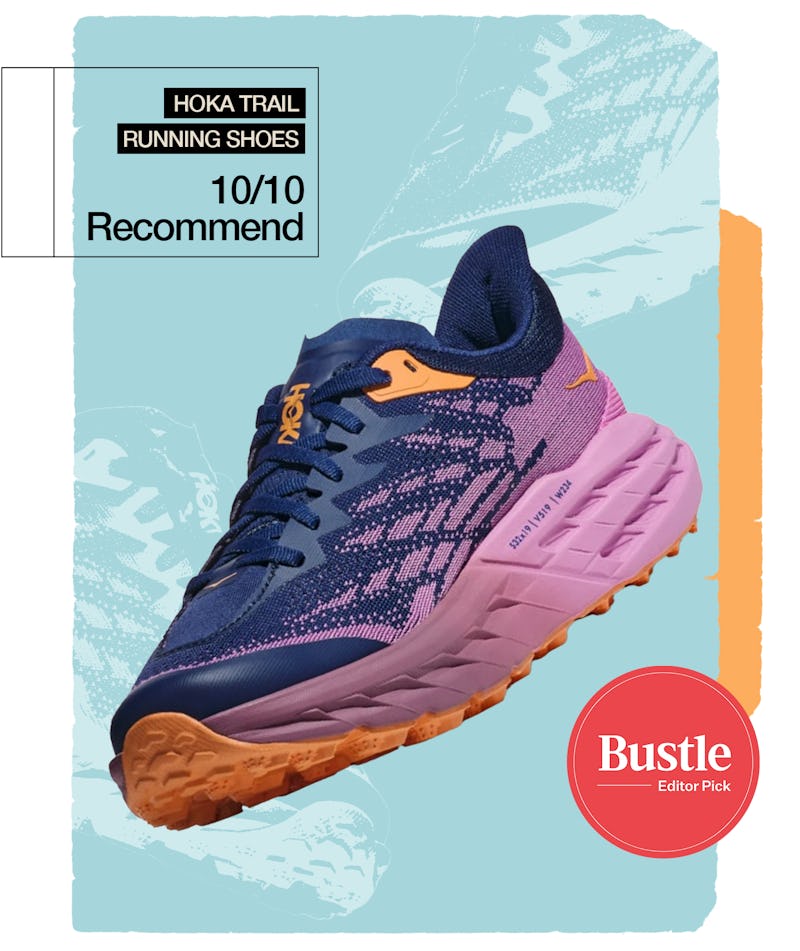 10/10 Recommend
We may receive a portion of sales if you purchase a product through a link in this article.
Recently, after 15-plus years of road running, I took up trail running, a sport that exudes chill — it's not uncommon for race directors to advertise their events as a "party in the woods." I'm not the only newbie: Sales of women's trail running shoes more than doubled from 2019 to 2021, and more women are participating in trail races than ever before, two data points that seem to correspond with an overall postpandemic trend away from quick, punishing workouts like HIIT and toward gentler activities like Pilates and hiking.
Trail races tend to be more relaxed than the road races I've done (one recent 10-miler in the woods began not with the national anthem or a starting gun but with a guy just saying "go"). And yet I still find things to be anxious about: I worry about tripping over rocks and roots, and I especially worry about falling down steep inclines. So many things in life are made worse by tensing up and trying harder, which makes no sense and is infuriating, and trail running is no exception — you're way more likely to fall if you can't loosen up and chill TF out.
Recently, though, I found something to help me relax a tiny bit on the trails, and it is these wonderful shoes: the Hoka Speedgoat 5s. They come in a wide selection of flashy colorways, they're big and squishy and comfy, and I look forward to wearing them every time. It's hard to be tense when your shoes are this silly.
We at Bustle only include products that have been independently selected by our editors. We may receive a portion of sales if you purchase a product through a link in this article.
Fast Facts
Price: $155
Best for: Easy and moderately technical trails.
Rating: 5/5
What we like: The bright colors, cushy feel, and on-trend style. It's impossible not to have fun in these shoes.
What we didn't like: You may need to thread the laces through the top hole to keep your feet from sliding around.
The Gear
The Speedgoat 5s have a high stack height, which is a running shoe nerd's way of saying these things are chonky. Higher stack height in a running shoe means more cushioning — not surprising considering these are Hokas, the unofficial shoe of the Hot Girl Walk. "When you look at the footprint itself, you're really sitting in the midsole," says Jared Smith, product line manager for Hoka. "You have all that cushioning underneath your foot but also around your foot, acting like a bolster."
Also like other Hokas, these shoes are low drop, which means there's not much of a height difference between the heel and the ball of your foot. Sounds like that would mean your feet would land flat, which sounds bad, but according to Hoka, its signature Meta-Rocker tech prevents that from happening. The back of the shoe's sole sticks out a bit and is rounded, making the shoes look goofy and feel springy — "like wheels for your feet" that help "propel people forward," according to company literature.
My Experience
You have to keep your head down quite a bit when you're trail running to keep an eye out for rocks and roots, which means I have spent a lot of time staring at these shoes. Lucky for me, they're fun to look at. Mine are bright teal and blue and are pleasingly chunky in that vaguely orthopedic style that's in right now. They're colorful and fun and a little bit ridiculous, which goes a long way toward helping me chill out.
The first time I put them on, I thought they were way too big; even though I ordered them in my usual Hoka size, my feet felt like they were sliding around in them. My husband is a much more experienced trail runner than I am, and he fixed the issue quickly by threading the laces through the top holes, which made my feet feel much more secure inside the shoes. (But would I have known to do that without him? … No.)
After that, I barely thought about the shoes at all, which is just about the highest compliment you can give a piece of running gear. I don't think I've ever slipped in them (or at least, not in a way in which I can blame it on them). Once, the group I was running with got briefly off-trail, and we had to cross a shallow stream to get back on track. I splashed right in, and most of the water quickly drained right out; my feet were dry (well, dry-ish) for the remainder of the run.
I always feel like I could run for hours in these, and I have. The longest run I've done in them was more than three hours long; by the end, I was mentally wrecked but physically in good shape — especially my feet, which enjoyed a blissful, cushy ride the whole way through.
Worth It?
They're not cheap, but at $155, the price is about average for trail running shoes. For me, their versatility is a big selling point: Although I can't speak to how they hold up on anything super technical (as I have no business running anything super technical), they've handled well on both carriage paths and moderately technical trails, as well as brief stints on the road. Likewise, I can run fast(ish) in these as confidently as I can run easy. They're great for beginners like me who may be reluctant to invest in multiple pairs of trail shoes.
If I'm honest, though, it will always be the brightly-hued colorways that really do it for me — there are currently 13 of them, in shades like "Green Glow" and "Festival Fuchsia," which do wonders for reminding tightly wound neurotics like me that all of this is supposed to be fun.
TL; DR
Hoka Speedgoat 5s are among the most popular trail running shoes for a reason. If you, like me, are a recent convert to this sport and want a shoe that's comfortable and versatile — and also happens to be trendy! — these are a good bet.