Hannah Brown On Wellness, Therapy, & Winning 'Special Forces'
The former The Bachelorette star chats about self-care, wellness, and winning Special Forces.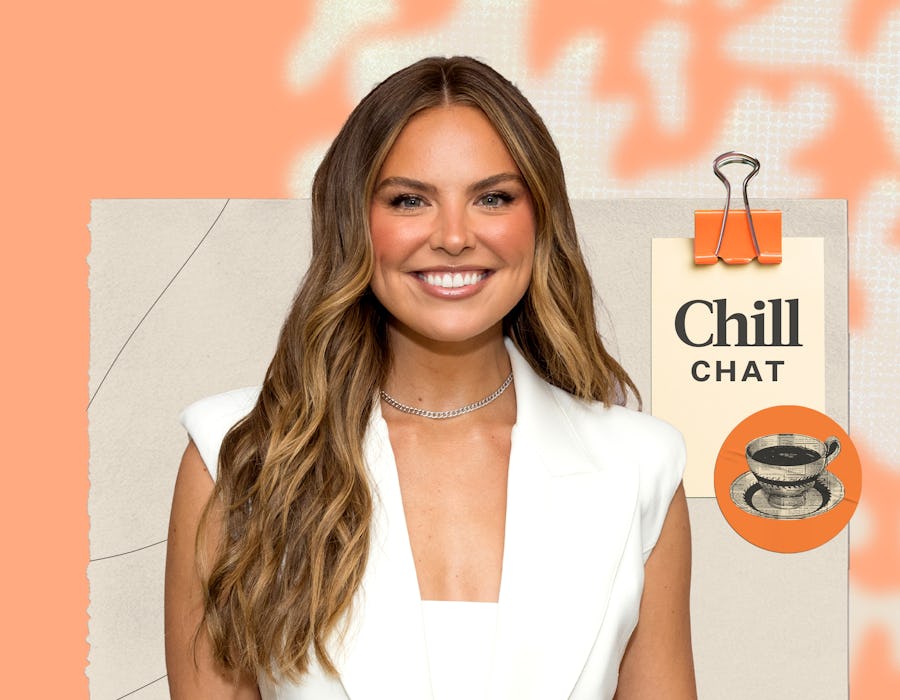 In Chill Chat, Bustle sits down with stars to chat about all things wellness, from their favorite skin care products to their hacks for getting a good night's sleep. Here, The Bachelorette's Hannah Brown shares her favorite face wash, the ultimate breakfast burrito recipe, and how she likes to stay grounded.
When you think about The Bachelorette, you don't necessarily imagine the beautifully coiffed giver of roses going on to jump out of helicopters, and yet that's exactly what Hannah Brown has been up to these past few weeks. After appearing on everyone's favorite dating show — where she made waves for being so sex-positive after hooking up in a windmill — Brown casually won Dancing with the Stars and then decided to try her hand on Special Forces: World's Toughest Test. Spoiler alert: She won alongside soccer player Carli Lloyd.
This show puts contestants through the absolute ringer with grueling challenges from the actual Special Forces selection process. But for Brown, who has been open about her anxiety and depression, it was about so much more than that. "I wanted to prove to myself how far I've come, how much resilience I have, and how strong I am mentally and physically," the 28-year-old tells Bustle.
She's been putting in the work for years by going to therapy, seeing a psychiatrist, and even strength training as a way to boost her mood — all things that inadvertently prepped her for multiple challenges in the deserts of Jordan. "I did all that work and then came face to face with the weakest parts of myself," she says. "The show showed me that I was so strong."
Here, Brown shares her morning routine, go-to breakfast, and how she used her therapy skills to win Special Forces.
What is your typical morning routine?
I'm not the biggest morning person. I actually have narcolepsy, so it makes it harder for me to get up — but there are ways around that. I stay on a good sleep routine so that I can wake up a little bit more refreshed. I also try to get some natural sunlight first thing. I have a balcony that I'll go on to get myself fresh and awake, and I have one of those artificial sun lamps, too.
I like slow mornings, so from there I'll have some water and sit down for a little quiet time where I'll meditate, pray, and read. Usually, that's when I'll read a self-help book to get myself in the right head space to take on the day. Right now I'm reading The Ruthless Elimination of Hurry.
Does breakfast fit into your morning routine?
I try to eat around 11 after my workout, which could still be considered breakfast. Sometimes I'll have a banana, but my favorite is the breakfast tacos my boyfriend makes at home. It has to be with the Siete almond tortillas. They're so good with a little ghee butter on top, and then some scrambled eggs with either bacon or sausage. This is of course with some Cholula hot sauce on top.
Do you have any coffee?
My body's naturally cut out caffeine recently, so I'm not drinking much coffee even though I love the taste. Maybe it's because I'm feeling more in tune with my body. Coffee just doesn't make me feel good in the mornings; it gives me jitters and now I'm really aware of that.
What does your skin care routine look like?
I'm super minimalistic. I've had sensitive skin my whole life, so using a lot of products isn't the best for me. I like to wash my face with a gentle cleanser, like L'Occitane's, then I'll put on the Paula's Choice vitamin C serum and oil-free moisturizer. I'll also use Supergoop! sunscreen. Oh, and always a Laneige Lip Sleeping Mask. I put that on my lips in the morning because they tend to feel dry when I wake up. Then I brush my hair and put it up so I can work out.
What type of workouts do you like to do?
My psychiatrist and therapist really wanted me to get into strength training because it's a good mood booster. I had started strength training for that reason when I got the call about Special Forces, so I was already back in the gym and lifting more weights. But I hadn't been doing that for very long before I got the call, and I hadn't really been working out that much before.
Did you feel physically ready when you showed up at Special Forces?
No! I was super nervous about the whole thing because I knew it was going to be hard and that I probably wasn't going to be the most athletic. But I knew that I have a strong work ethic and would do the best that I could.
What was the Special Forces challenge that surprised you the most?
The last challenge was horrible. It was called the interrogation. I was so sleep-deprived and then we had to stand and sit in stress positions with a bag over our heads in this hot room for 12 hours. We were in complete darkness and they had headphones on our heads that played the sounds of metal scraping, women screaming, babies crying, and animals eating other animals. It was horrible.
Did you use what you've learned in therapy to go to a calm place?
Yes. I really tried to drown out the noise. I would talk to myself or try to find a calm place to go to in my mind. I thought to myself, "OK, you've been in pain before. You've been in uncomfortable situations. It won't last forever." That's what I would tell myself as I breathed. "This too shall pass" is another thing I kept saying in my mind. There were moments when I would panic, but I do feel really proud that I was able to grab hold of my therapy skills to soothe myself through challenges in a way I'd never done before.
That sounds incredibly intense. How do you decompress after being on a TV set?
I'm just now learning a healthy way to decompress. I don't think I knew how to at first, but I've realized it's all about going back into a place of groundedness. I like a night in with people who love me, who know me, and who allow me to feel proud and celebrate all the incredible things that I've done.
How do you like to reconnect with your boyfriend, Adam Woolard, after you've been away?
After this past show, we met each other in France and had the most romantic two weeks together. There was some juxtaposition from being dirty and nasty in the desert on Special Forces to being in a beautiful little village in France with my amazing boyfriend.
What would you say is your overall approach to wellness?
At this moment, my overall approach is to be present with my body and my mind — exploring what works and what doesn't as I continue to build strength and confidence.
This interview has been edited and condensed for clarity.