Why You Should Throw Your Bestie A "Career Shower"
Carrie Bradshaw was onto something.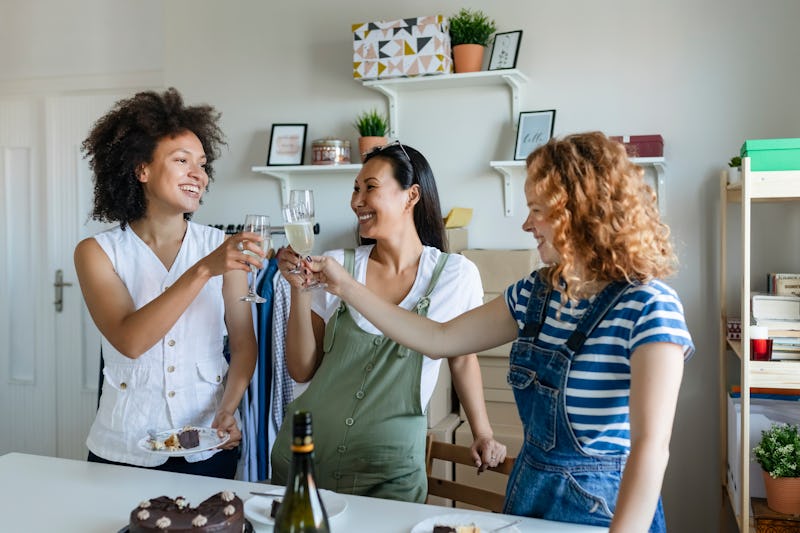 Getty Images/PixelsEffect
By the time you reach your late 20s or 30s, you've likely been to at least one bridal or baby shower. More realistically, you've been to what feels like a hundred. There are countless occasions to celebrate friends as they get married and have kids, but have you ever noticed there are zero options for everyone else? When you don't hit these mega milestones, you end up giving the gifts, spending the time, and showing the love to those that do — never the other way around. And that's why we need to make career showers happen.
While bachelorettes and bridal showers are great, it's a bummer that there's a decided lack of parties for the single, unengaged, and child-free folks of the world. Just like Carrie Bradshaw's experience in the Sex and the City episode "A Woman's Right To Shoes", the lack of attention from friends and family that have hit certain milestones — who you celebrate so often — can leave you feeling like your choices and goals aren't as special or important. According to Amy Chan, a relationship expert and founder of Renew Breakup Bootcamp, that's where career showers come in.
A career shower is a party that honors your professional achievements, she explains, like when you score a dream job, launch a business, publish a book, land a new gig, or get a promotion. It's an ideal way to call attention to these equally-major life moments — and take a break from buying blenders and silverware sets for your besties. Think baby shower, but make it corporate.
At a career shower, you finally get to kick back and revel in the spotlight as everyone praises you for a job well done — literally. If you're used to being the Carrie Bradshaw in the situation, it'll feel so good to have all eyes on your successes for a change. (And even better to not guess a baby's weight or shimmy into yet another chiffon bridesmaid dress.)
While anyone can have a career shower, they're especially important for folks who don't plan on having a wedding or kids anytime soon — if ever. "It's not everyone's path to get married or start a family," Chan tells Bustle. "Some individuals desire children but are unable to have them, while others opt not to have kids at all. Additionally, there are people who are single and have no plans to tie the knot." These parties offer the chance for everyone to get in on the act of celebrating, whether they've followed a traditional path or not.
The best part? There's no right or wrong way to throw a career shower. "You can make it a potluck, you can keep it simple and provide croissants and tea, or you can pop champagne," Chan says. Host one for yourself, throw one for a friend, and repeat the process as more career goals are met. To make the party feel extra special, Chan suggests giving a toast, sharing career advice, and eating lots of cake. If the cake is career-themed, that's even better. But the main point is to gather all your friends and work BFFS in one spot for a party, just like you've done so many times for other types of showers.
Whether you're single and child-free or married with two kids, career showers should certainly be added to the list of significant celebrations in life. You deserve it, so let's make season six Carrie Bradshaw proud.