Law Roach Reveals What He'll Be Doing Instead Of Going To The Met Gala
"I am still a student of fashion and I still love it."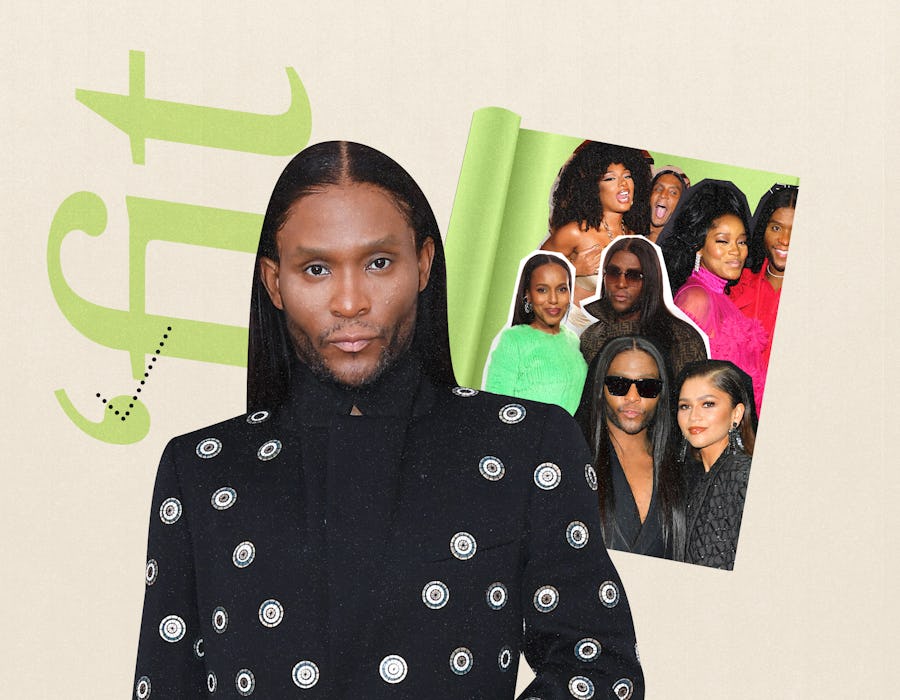 Law Roach is the most powerful man in fashion.
Though unbeknownst to your regular Joe, behind the scenes, he pulls the delicate strings of the fashion industry like a puppeteer. He is the reason the most famous celebrities on earth (Zendaya, Megan Thee Stallion, Priyanka Chopra, and more) are idolized for their forward-thinking style — and for the trickle-down trends that directly follow. Roach is an influencer to the highest degree, and his impact is insurmountable.
The fashion community was stunned in March when the celeb stylist announced that he was retiring. With the 2023 Met Gala only weeks away, to quote André Leon Talley, there was about to be a "famine of beauty" on the red carpet. Though he has other plans for the first Monday in May, Roach confirms his retirement will still include styling — but for now, the client he's focused on is himself.
"My priority [was] always to the person [who] hired me. That was my priority: to make sure that they felt great. That's been my priority for the last eight years," Roach told Bustle. "I don't feel neglected, but I wasn't the number one. Now I am. And I'm excited."
Ahead, the legendary stylist talks his busy "retirement," his plans for the Met Gala, and where he buys his underwear.
You got off the plane from styling one of your final looks for Megan Thee Stallion and went straight to a TJ Maxx event. How did it feel to literally step out of the stylist role and directly into a new venture?
It felt really good. I think this collaboration with TJ Maxx came at the perfect moment and I feel like I needed it. When I retired, it was like I was losing a part of myself — a part of me had died. I went through these couple of days when I was just like, "Would people still like me or care about me, since I'm not this thing anymore?" And they were very, very much still excited. That made me feel really good and it gave me a little boost of confidence. I needed it. I really did.
You've got a book deal, you're creative director for a footwear brand, and you're collaborating with TJ Maxx The Runway — what else do you hope to achieve?
I'm in this stage where I'm like, "Oh, let me try this. I want to see if I'm good at that." And I keep making this joke to my team, if that doesn't work and I'm not good at anything else, then I'll just be a stylist again. I know I'm good at that.
You've confirmed you won't be styling anyone for the Met Gala. What will you be doing that night instead?
I know I'm going to be on Instagram, let me just keep it real. In my head I'm like, "Oh, you're gonna be on a beach with a cocktail." But I'm going to be Instagram stalking, calling my friends — "Did you see that?" Making shady comments about my former clients and their new stylist. No, I'm just kidding.
I am still a student of fashion and I still love it. I'm a fashion boy. And the Met Gala is one of the biggest nights, and we all look forward to seeing who's there and what they're wearing. So I'll be watching for sure.
You have the most unique personal style. Is there any trend that you would never try?
I don't think there's anything I wouldn't try. Style is always going to be an evolution. And I'm going through my style evolution now. I'm looking forward to having more time to myself and to be able to try more things. I've made so many mistakes — and I keep making mistakes, but it helps you grow. When you look back and you're grateful, even for the mistakes, it helps you just be better.
Is there a certain look you regret?
I don't regret any of the looks because I know for a fact that whoever I was dressing was happy and it made them feel good. And that's what really counts. I have made some mistakes of my own. I dressed myself, I did all my own wardrobe for Legendary — the TV show that I was on [on] HBO Max — and I look at those video clips and pictures. I was just like, "Woo! Boy, what were you thinking?"
Would you say that you neglected your style over the past few years, because you were catering so much to clients?
I wouldn't say neglected but I created a sort of uniform for when I work. My priority is always to the person [who] hired me. That was my priority: to make sure that they felt great. That's been my priority for the last eight years. I don't feel neglected but I wasn't the number one. Now I am. And I'm excited.
What's one trend you love right now and one you're ready to retire?
One of the trends I really like is archival and vintage. And if we are thinking about sustainability, that's one of the easiest ways to be sustainable — wear something that somebody else has already owned. But the super oversized, baggy — that trend has been a little done for me. It was really cool, I just think it's overdone at this point.
For people looking to find sales at TJ Maxx, what advice would you give?
Go in as a treasure hunt — that's what I like to do, because you never know what you're going to find. I know the easiest way is online but I prefer to go with this process. If you are a person who likes to go into stores: spend as much time as possible, try on as many things as possible.
What was the last piece you got there?
The last piece I got was a really beautiful women's blouse. I go all the time, because I get all my essentials there, like underwear, T-shirts. You see these same things in department stores, but double the price. During college — before I had a job, before I had any money — it was where you went to get the good stuff. So I've never grown out of that.
You want to drop the underwear brand?
It's very known for being sexy. You see the billboards all the time everywhere.
This interview has been edited and condensed for clarity.