TikTok Says Cocktail-Inspired Makeup Looks Are Perfect For Selfies
"A Negroni... Sbagliato... with prosecco in it."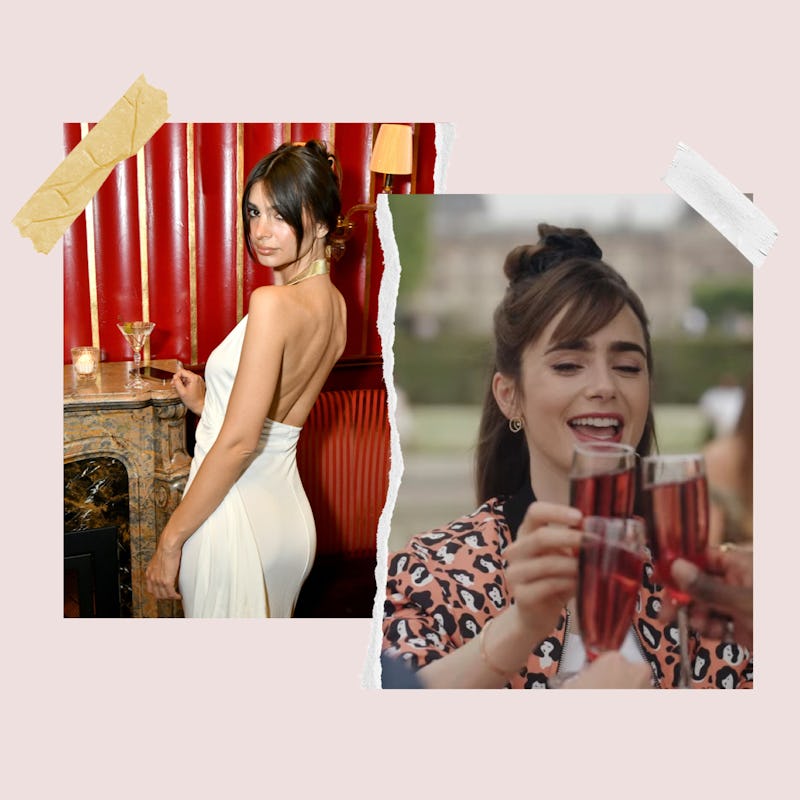 Craig Barritt/Getty Images Entertainment/Getty Images ; Screenshot via Emily in Paris/Netflix
You know those effortlessly stunning, somehow perfectly lit photos all over Instagram, that most often feature a material gworl at dinner with a pretty cocktail in hand?
I'm talking about that iconic photo that Selena Gomez posted, deleted, and reposted years later (because it's that good), which now has 21 million likes and counting. Or the moment that Emily in Paris' titular character sipped on a ruby-hued Kir Royale for the first time, of course looking chic as ever.
What do those moments have in common? Well, Selena and Emily both just so happened to match their lip color to their drink.
ICYMI, a Negroni-inspired makeup look is currently trending on BeautyTok, with a vivid orange-hued eye a perfect match to the buzzy cocktail (that House of the Dragon's Emma D'Arcy unknowingly made a viral order late last year). And along with it, countless other glam moments inspired by creators' fave drink orders are popping up on the platform.
Zoe Kim Kenealy, one of the beauty creators behind the trend, notes: "I love me a good drink... and every photo that every girl takes with her drink, I love. The thing is, every cocktail has a different energy — and you know where I'm going with this — so does every makeup look. So here it is, the makeup look to match your drink of choice for that photo you want to take."
And so I ask the infamous question, ahead of your weekend plans: What's your drink of choice?
A Negroni
Whether you prefer a Negroni (or any orange-hued drink, really), glossy orange eyes and a pink flush is the move for your best photos yet.
A Glass Of Champagne
Prefer a glass of champagne à la Marilyn Monroe? Opt for some high-shine on the eyes in champagne and soft gold shades.
A Dirty Martini
Extra olive tones. Shaken, not stirred.
A White Russian
For those who prefer a White Russian — which features coffee, cream, and vodka — a monochromatic, brown-hued moment is a serious serve.
A Glass Of Wine
Red wine is a staple order at dinner — and this siren-eyed look features deep berry tones that match the energy of the classy drink.
A Midori Sour
For those vibrant, green-colored cocktails (like a margarita, mojito, or Midori Sour) — vibrant green eyeshadow on the lids is made all the more playful with some garnish-inspired, glossy cherry lips.
An Espresso Martini
Espresso martinis are truly having their main character moment... and some matching glam is sure to give you your main character moment on IG.