Beware The "Miami Curse," Your Group Vacation's Worst Nightmare
Don't let it happen to you.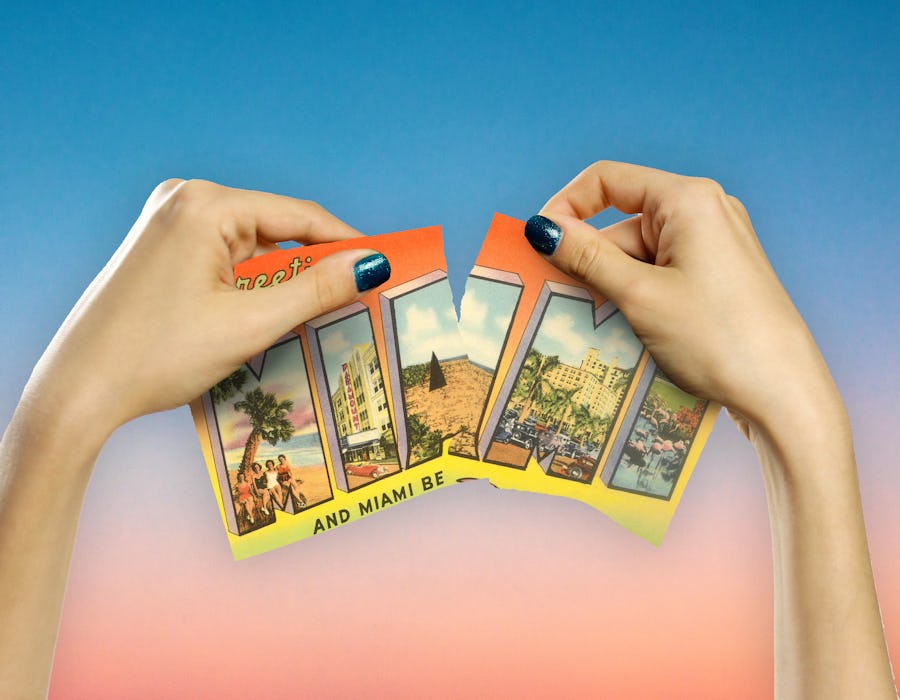 TikTok warns of the "Miami curse": If you head there on a trip with your friends, there's going to be drama. Videos warning about it have racked up nearly 8 million views. While users began discussing the phenomenon in 2021, others say the "curse" has been something they noticed before social media picked up on it. "I don't even think it's the people; it's Miami that's the issue," says @mariamas.trench on TikTok.
Just read the comments under any Miami curse video and you'll hear horror stories about drama, fights, and even friendship breakups. @Iamtresorr tells his followers in a video, "I need to know why this phenomenon is happening." Comments include money issues, jealousy, and fighting. A video from @thisdudenotjordan has more than 5,000 responses, including stories about rock-solid friendships dissolving after more than 24 hours in Miami.
Part of the reason why the so-called curse has garnered so much attention is because it seems counterintuitive. After all, Miami is a sprawling city. While it has a reputation for nightlife, it's also known for its beautiful beaches, amazing food, vibrant arts scene, and wellness culture. In just one day alone, you can take a culinary food tour of Little Havana, snap perfect-for-social media photos at Wynwood Walls, pop into a pool deck yoga class, and dance the night away. Miami is often suggested as a bachelorette destination because there's something for everyone.
And of course, it's unfair to blame one city for pretty universal problems. Whenever you get a group of people traveling together, disagreements are bound to pop up. But what makes Miami more troubling for some than, say, Nashville or Vegas? I talked with people who visited the Florida hotspot with friends about what they think triggers the "curse."
Misaligned Expectations
On TikTok, @jareeniman speculates that the "something for everyone" energy of the city actually may be the cause of so many issues among visiting groups of friends. "People have very different expectations of Miami," she explains in her video, adding that she grew up in South Florida. A string of more than 400 comments has many people agreeing with her. She goes on to explain that some people might be expecting plenty of low-key beach time, while others are planning on nonstop clubbing. Her recommendation: a vibe check to see how everyone is feeling. Do people want a major night out or do they want a chill dinner before calling it a night?
Kacie, 29, visited for a bachelorette weekend four years ago. "I felt like every club was such a scene," she says. "I felt judged for my looks, and I felt like I was spending the whole night getting ready so I could be deemed acceptable by some guys I didn't know, didn't care about, and would never see again. It felt superficial. We were supposed to be bonding, but instead it was all 'Do we look good enough to get into this club?'"
On TikTok, @cupid8184 shares her theories about why Miami nightlife may contribute to drama, including her own breakup of an eight-year friendship. Part of the reason, she says in the video, is intense pressure from clubs to look a certain way. "You may be pretty in your city, but you're not Miami pretty," she says.
Money Doesn't Go Very Far
Travelers typically spend about $206 per day, according to data from Budget Your Trip. The average cost of a Miami hotel room jumped by 55% from 2019 to 2022 — significantly more than the nationwide average of 33%, per a report from hotel market data provider STR. At LIV, one of the city's most famous clubs, cover fees average $60 to $100 and can climb higher for certain headliners. All those costs can add up fast.
"I went to Miami with two friends as a mini bachelorette," says Jenna, 30. "One of the girl's brothers worked for a hotel chain, so we could get a room for free." Jenna says she didn't consider the three of them "Miami people" — they preferred exploring the city to clubbing — but said that they got into a huge disagreement over how much they expected to spend.
The bride didn't realize how expensive the city would be. "I had looked up cool restaurants to try, but she rejected all my ideas," Jenna says. "We ended up having pizza in our room one of the nights. That would have been fine if we had been somewhere remote, but we were in Miami — there were amazing restaurants down the street."
On Kacie's vacation, three friends shared a bed while Kacie and another guest crammed onto the $800 a night suite's couch. "I think part of the reason people get annoyed is because you're on top of each other," she says. "I think we all paid about $600 [each] for three nights, once taxes were included. It was a lot, on top of our flights.
"I didn't sleep well, which didn't help," adds Kacie. "I didn't know the other girls very well, but what I hated was feeling like we were together 24/7." Kacie adds that the pool and bar in the hotel were always crowded. "I felt we were just going from one line to another," she says. "There was no place to relax. Everyone was definitely tense." Kacie says she felt there was more space on other bachelorette weekends she attended in Cape May, Cancún, and upstate New York.
Meg, 30, who went to Miami on a girls trip with her cousin and two of her cousin's friends, believes the issue might lie in rideshares. "On other trips I've been on, someone either has a car, or everything is pretty walkable. But things are spread out in Miami, so [we were] relying on rideshares a lot." Like many metropolitan areas, Miami has public transportation, including a free trolley system. But it can be challenging for out-of-towners who are trying to see as much as possible in a limited time to navigate, and rideshares are easy and plentiful.
Meg recalls how Uber issues created major tensions with her group. "Two of the girls didn't have Uber on their phones. And instead of just downloading it, I became the Uber person. I kept ordering rides, and then I was so stressed. It wasn't just the money; it was my Uber rating. And it just made me feel so mad. Like, why is this my job?"
Of course, this sort of issue could crop up in any unfamiliar city. But having an idea of how you'll get around — and making sure your friends all have their apps up to date — could spare your group a lot of headaches. On TikTok, @cupid8184 shares her own tales of rideshare blues, where she was also responsible for many South Beach taxi trips, cutting into her weekend budget.
Too Many Drinks
From morning mimosas to daytime cocktails at the pool to shots at the club, it's all too easy for a trip to Florida's party capital to turn into endless rounds of drinks. "I realized after a trip to Miami that I hate drinking in the sun," says Kenny, 27. (Yep, the curse affects guys, too.) "When I get dehydrated, I just get so mad." He went to Miami with a co-ed group of friends and recalls that boozing put everyone on edge.
Gen, 29, had her first and only physical altercation on a Miami bachelorette four years ago. "This friend of the bride, who I didn't know that well, told me to put sunscreen on. I pushed her." Today, Gen can't really pinpoint why the comment affected her so much, but she has ideas. "It was so hot," she says. "I was so hungover. I was self-conscious in a bikini. And this fake concern just hit something very deep within me."
Gen apologized, and she and the other woman were polite to each other in the lead-up to the bride's wedding, but they never spoke again. Gen has not been back to Miami.
Bottom line: These issues can happen anywhere. But because Miami is an expensive, busy city, you're going to be spending money, waiting in lines, and deciding between plenty of activities. Plan for it, and communicate. The best thing to do if you're feeling tension during your trip is talk it out before anyone explodes. People are hot; they're hungry; they need a bottle of water. Know that it's OK to feel momentarily annoyed, and it's also OK if you have a few different itineraries and escape plans in case things go off the rails.
And, of course, you're not doomed. If you're nervous, watch videos of friends breaking the "Miami curse" and emerging stronger for it. As @mariahlatrice_ wrote, "Money = spent. Memories = made. Friendship = closer."