Taco Bell's Fan-Favorite Nacho Fries Are Back Again For A Limited Time
Guess who's back…back again.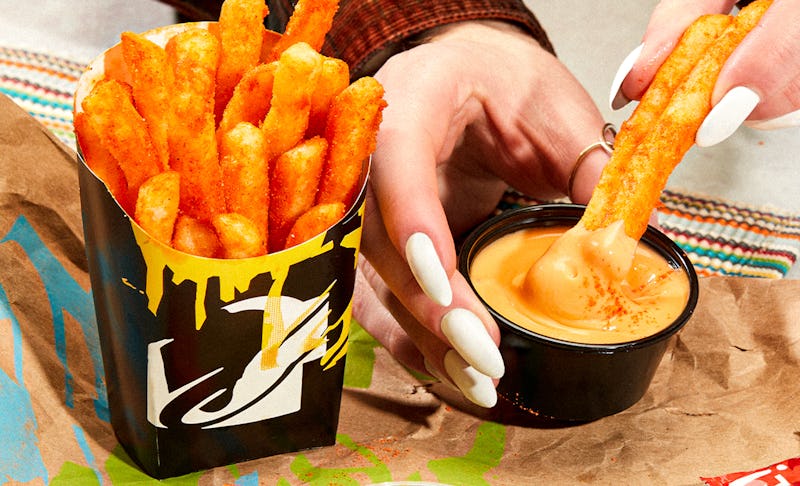 Courtesy of Taco Bell
Taco Bell fans, you're in luck: the beloved Nacho Fries have made their grand return to restaurants nationwide once again, and this time, you can get your hands on an exclusive version of the tasty treat. The menu item has returned in a limited-time capacity here and there over the past several years, much to loyal customers' pleasure, and on April 13, 2023 they made their highly anticipated comeback yet again.
In case you have never experienced the magic, Taco Bell's Nacho Fries are exactly what they sound like: nachos made with fries instead of chips. You know when you can't, for the life of you, decide what you want for lunch or dinner? These Nacho Fries are the answer to that, because they're basically two appetizers in one and have a little bit of everything. The popular fries are covered in a savory Mexican seasoning and are typically served with a helping of warm nacho cheese, but this year, you can opt for the original Nacho Fries with the classic side, or put your tastebuds to the test with the new limited-edition Yellowbird Nacho Fries.
As a collab with Austin, TX-based company Yellowbird Hot Sauce, the new take on the Nacho Fries features the same slim-cut potato fries nacho cheese sauce combo you know and love, plus steak pieces that have been marinated and grilled, chunks of tomato, melted cheddar cheese, zesty sour cream, and an exclusive Taco Bell x Yellowbird Spicy Habanero Ranch sauce to match. Per the April 11 press release, you can expect the exclusive sauce to feature an unforgettably versatile, fruity, and acidic blend of ingredients.
The Yellowbird Nacho Fries made their debut on April 13 and will be available for $4.99 until April 27 or until supplies last. If you can't get enough of the spicy sauce, you can add the side to any of your fave Taco Bell orders for $1 while the limited-time offer is still available. Of course, some things are classic for a reason, so if you don't want to mess with perfection, you can also score the OG Nacho Fries for $1.99 on their own.
Upon their initial debut in 2018, (which was the biggest debut in Taco Bell history, BTW), the fries were originally meant to be a one-time thing, but because they were such a big hit, Taco Bell extended the run, and they've been returning sporadically ever since. As Bustle previously reported, Nacho Fries are the number one best-selling limited edition offer Taco Bell has ever sold. So if you're looking to grab the fan-favorite treat before they're gone again, you're probably gonna want to head to your local T-Bell and snag them while you still can.
This article was originally published on