Pluto Retrograde Is Perfect For Personal Transformations
It's time to dive deep into your subconscious.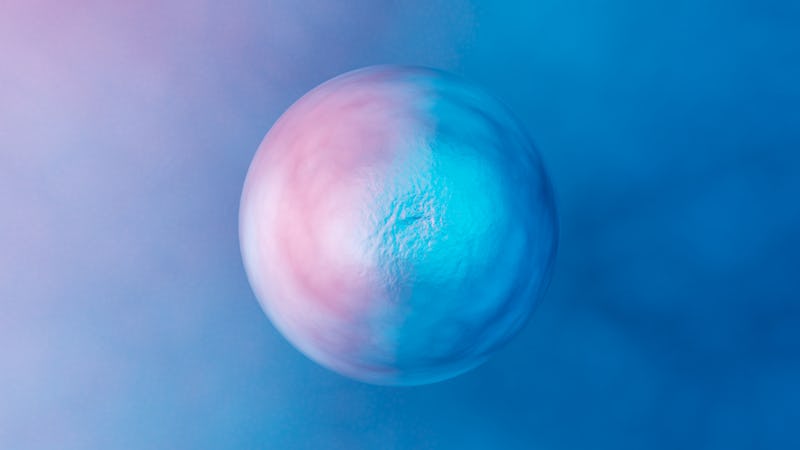 Liyao Xie/Moment/Getty Images
We've just had two straight months free of any planetary retrogrades, which gave us a relatively rare opportunity to enjoy an influx of forward-focused energy. But the cosmic honeymoon is over, because Pluto retrograde 2021 officially hit on April 27, and it'll rage on through October 6. Pluto retrograde is an annual planetary event that helps us to process everything from societal transformations to our own subconscious terrain. But if you want to get specific, you'll need to know how Pluto retrograde 2021 will affect your zodiac sign.
Unlike Mercury retrograde periods, which hit us hard and fast every few months, Pluto only retrogrades once a year — but its backspins last between five and six months. Pluto is one of the outer planets in astrology and the furthest away from the sun, so its effects are more subtle and won't necessarily mess with the flow of our day-to-day lives the way other retrogrades (like Mercury!) can. In other words, this retrograde isn't anything to get too stressed about.
However, understanding the meaning of Pluto retrograde can help us take advantage of the cosmic lessons it's trying to teach us. Pluto is the planet of transformation, and this small but mighty celestial force has the power to catalyze intense and deep-rooted changes within ourselves and the world at large. Pluto transits bring up issues related to the hidden energies of our subconscious mind — so during Pluto retrograde periods, we have a chance to dive beneath the surface and start examining our psyches on a deeper level. Because Pluto is a slow-moving generational planet, it often has an equally profound effect on the collective in addition to our personal lives, so the retrograde could also have us taking a long, hard look at some of the power dynamics, control issues, and structural shifts taking place within our society as a whole.
This year, Pluto will retrograde through the hardworking and no-nonsense sign of Capricorn, which gives the planet an even more stern and scrupulous approach. Your Pluto retrograde 2021 horoscope will give you a deeper idea of what subtle energies to expect over the next six months.
With Pluto retrograding through your house of public image, it's time to deal with any beneath-the-surface hang ups or repressed fears you carry regarding your own success and notoriety. Is there something holding you back from pursuing the career of your dreams? Examine your motives within your professional life and the methods you use to reach the top.
You're doing a deep dive into your personal belief system over the next six months — and this journey could catalyze a full-blown paradigm shift. As Pluto retrogrades through your house of knowledge and growth, you'll be re-examining your faith and re-assessing everything you thought you knew about yourself and the world. Expand your horizons.
This retrograde journey carries you deep into the heart of your subconscious mind, so expect slow but steady soul-level changes to take place. You're learning to examine the energetic boundaries that you set within relationships and the world in general. And it might be time to take back some of the control you've unintentionally given away. Own your power.
Pluto is retrograding through your house of partnerships, which is putting your mind on the commitments you've made to others. What power dynamics have shifted or materialized within your relationships over the past six months? Now's a time to explore the subtle energies that bond you to other people and examine your reasons for committing to them.
This retrograde will send you on a subtle-but-powerful exploration of the mundane aspects of your daily habits. What's underneath the surface of your routine? What is and isn't working about the way you're currently living your life? If there are responsibilities that are detracting from your higher goals or draining your energy, it's time to slowly make a few changes.
Pluto retrograde can be a serious transit, but the next six months will have you more focused on the ways you relate to joy and leisure. Do you allow yourself to bask in the more lighthearted aspects of life — like romance, hobbies, or passion projects? Dismantle anything that might be holding you back from enjoying all the pleasures and luxuries in life.
This retrograde is a time to get real with yourself, as it'll be hitting the ultra-sensitive home and family sector of your chart. The very foundation of your life are shifting, and over the next six months, you have an opportunity to look inward and start making sense of these personal transformations. The softer you are, the more flexible you'll be about changes.
This retrograde may feel extra personal for you, given that Pluto is your sign's ruling planet. So over the next six months, prepare to get more comfortable speaking your truth and making your voice heard. Pluto in your house of communication is transforming the way you express your ideas to the world, so stay present in your surroundings and don't sleep on important connections with others.
What is your relationship to money? And do your values align with the values of society at large? This retrograde in your house of finances will have examining any hang-ups you've built up about money and wealth — and if you're willing to dig deep and dismantle your limiting beliefs, you have a chance to grow out of certain habits that might be holding you back.
Pluto retrograde is transforming who you are at your very core, so be ready to do some deep internal processing. Everything from your image to your sense of self has been slowly but steadily shifting during the past years, and this retrograde offers you a chance to sit back and reflect on the person you're becoming. Embrace the shifts.
Pluto retrograde is sending you a subtle journey of quiet introspection, and it's actually a beautiful chance for you to connect with your spirituality and natural sense of intuition. Don't be afraid to take a deep-dive into the mystical realms dreams and unconscious mind. This soul-searching process will help you emerge as a brand new version of yourself.
Pluto retrograde is hitting your house of groups and friendships, so you might start realizing ways in which your role in the community has shifted over recent years. This could mean letting go of friendships that no longer align with your vibe, but it might also mean that you're able to step into your power and find new ways to stand out from the crowd. Embrace your inner leader.