Here's How To Add Multiple Links To Your Instagram Bio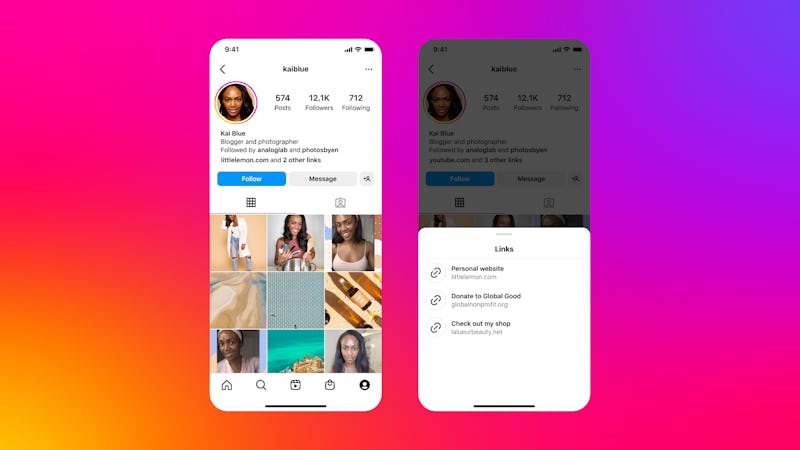 Courtesy of Meta
These days, it's all about the side hustle — and the side hustle for your side hustle. From Etsy shops to astrology readings, we all have things we need to promote, but changing the link in your IG bio every time you have a new side project can get pretty annoying. Thankfully, Instagram recently rolled out a new feature that lets you add multiple links to your bio, so you can finally sell tickets to your next gig and promote your podcast all in one place. Here's the rundown of how it works.
"Link in bio" has become a big part of our social media lexicon, and now the popular phrase is about to get a much-needed upgrade. The new multiple links feature, announced by Mark Zuckerberg on April 18, allows users to add up to five links in their bio instead of just one, so your followers can access your projects at any time. Do you have a Depop you want to promote? Link it. Did you just publish a new piece on your Substack? Link it. Are you trying to get more eyes on your website? Yup, you can link that, too. You can also include links to any causes you want to bring awareness to, or even link to a funny YouTube video if you want. The possibilities are endless — well, maybe not endless since there are only five slots, but you get the point.
How To Add Multiple Links To Your IG Bio
If you're ready to take your businesses, interests, and pursuits to the next level, here's a step-by-step guide on how to use the new feature.
The first thing you'll need to do is update the Instagram app if you haven't already. Then, open the app and navigate to your profile. Next, tap the "Edit profile" button underneath your bio, then navigate to Links.
Tap the Links button, then select "Add external link." From there, you'll be able to paste your URLs and rename them to make them even easier to distinguish. Once you're done adding and renaming them, you can drag and drop the links to put them in any order you so choose. To see all your links, all you have to do is tap the "other links" button in your bio, and your URLs will appear in a pop-up called Links.
The new feature is available for all Instagram users — not just those with bigger follower counts — which means you don't have to have a blue check next to your name in order to use the promotional tool. It's unclear if the feature has been fully rolled out to all users yet, so if you don't see it right away, your best bet is to check back in a few days to see if anything has changed.