Everything To Know About The Kardashians Season 3
A trailer released on April 27 shows Kim K crying after breaking up with boyfriend Pete Davidson.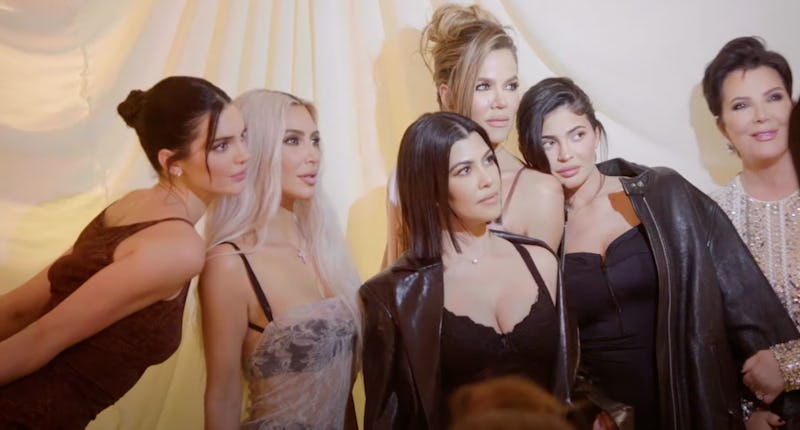 Hulu
The Kardashians never leave us hanging for too long. Just a few months after The Kardashians Season 2 ended in September 2022, the royal family of reality TV is back for yet another season of their Hulu series, which is premiering much sooner than you may think. Kim Kardashian, Khloé Kardashian, Kourtney Kardashian Barker, Kendall Jenner, Kylie Jenner, and matriarch Kris Jenner are returning for the third season of their namesake show, and even though they've only been off-air for about six months, there's a lot of ground to cover.
Here's everything you need to know about The Kardashians Season 3.
The Kardashians Season 3 Trailer
Hulu dropped the Season 3 trailer on April 27, which shows that fans are in for perhaps more Kardashian drama than ever before. The clip begins with Kim crying over her split from Pete Davidson. "I'm not OK. I'm having such a hard day today," she says. This marks the first time she's publicly addressing the breakup, before getting to the never-ending drama with her ex-husband Kanye West. "He has made up the most insane narrative," she tells her mom. "We stay silent through all the lies for my kids."
As far as the rest of the family, Khloé undergoes a scary battle with melanoma while figuring out her post-split dynamic with Tristan Thompson, and Kendall and Kylie take on the beauty standards their family may inadvertently be setting. Most intriguingly, the trailer builds tension between two of the siblings, as Kourtney accuses Kim of using her Italy wedding as a business opportunity, building up to a seeming confrontation. "People think it's a misunderstanding," Kourtney says. "It's not. It's who she is to her core."
The first teaser video for The Kardashians Season 3 was released on March 27. "I wish I could tell you this is gonna be a mild, relaxing, serene season. It's not," Khloé teases. Even Kourtney's ex-boyfriend Scott Disick is stunned by what he sees, and he's been around the family for quite some time. "I've never seen this much drama in my life," he remarks.
The Kardashians Season 3 Premiere Date
As announced by Kim on Twitter, The Kardashians Season 3 will premiere on Hulu on May 25, with new episodes streaming every Thursday.
The Kardashians Season 3 Cast
Unsurprisingly, Kim, Kourtney, Khloé, Kendall, Kylie, and Kris will all be back for the third season of their Hulu series. However, it remains to be seen whether some of the men in their lives will make appearances. As indicated in the trailer, Disick will appear on The Kardashians yet again, as will Kourtney's husband Travis Barker. There are no signs just yet of Kim's ex-husband Kanye West, ex-boyfriend Pete Davidson, or Khloé's ex-boyfriend and baby daddy Tristan Thompson, though all of them have filmed in some capacity before.
What Will The Kardashians Season 3 Cover?
The teaser trailer gives no clue about what's about to go down in Season 3 of the Hulu series, and the official synopsis doesn't help either. "The cameras return as Kris, Kourtney, Kim, Khloé, Kendall and Kylie invite viewers back into their lives as they navigate motherhood, coparenting, and building their own empires," the synopsis reads. "Their bond will be tested and tensions arise, but as a family they will stand together through the storm." However, fans can guess what will be seen on The Kardashians Season 3 based on what's gone down since the Season 2 finale.
Kourtney confirmed in September 2022 that the family had already started filming, meaning anything that happened in the months prior is fair game. Kim may address her split from Davidson, and possibly even West's anti-Jewish comments that led him to be dropped from Adidas. Khloé will likely give an insight into parenting her second child with Thompson following his cheating scandal — and possibly even reveal their son's name. Fans may also see Kourtney's Italian wedding to Barker, after spending the second season planning the event. However, Season 2 filming wrapped before their big day in May 2022, meaning the couple may have chosen to keep it away from Hulu's cameras.
This post will be updated as more The Kardashians Season 3 details become available.
This article was originally published on