At 28, Julia Louis-Dreyfus Joined Seinfeld & Bought Too Many Throw Pillows
The 62-year-old actor looks back on surviving pilot season and her first audition with Jerry Seinfeld.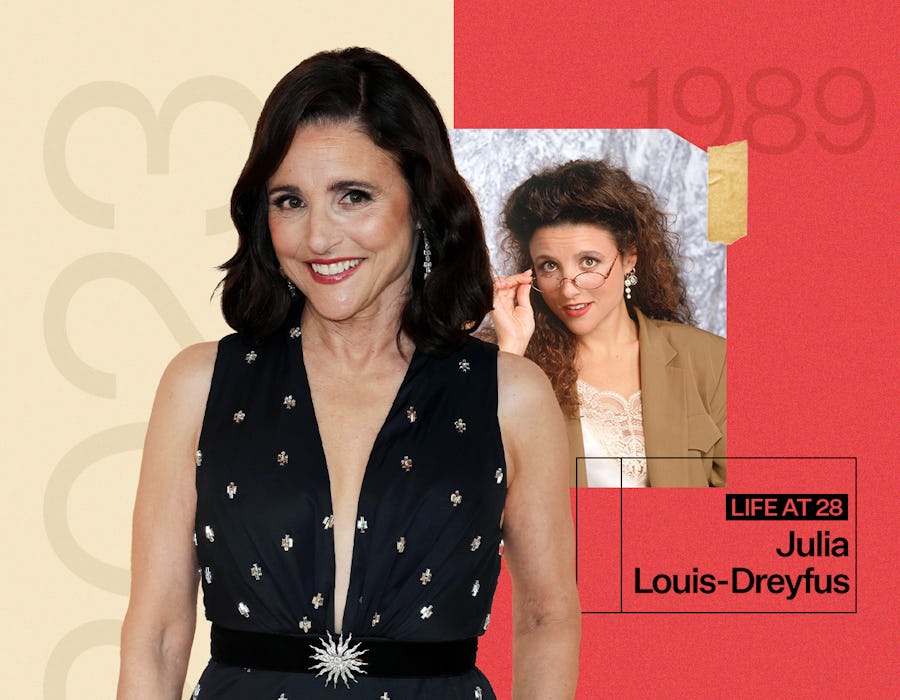 Caroline Wurtzel/Bustle; Jeff Kravitz, NBC/Getty Images
Success came early for Julia Louis-Dreyfus. At 21, she dropped out of college to join Saturday Night Live, breaking records as the show's then-youngest female cast member. But after three tense years in the vaunted sketch show's infamous pressure cooker, she traded New York City for sunny Los Angeles, and the hectic halls of Studio 8H for TV pilot season's countless audition rooms.
Being an SNL alum wasn't exactly the springboard Louis-Dreyfus hoped it might be. "I didn't come out of SNL a big star by any means, and even within that show, I didn't have tons and tons to do. It was hard to get material on the air," Louis-Dreyfus tells Bustle. "I really wanted to be an actor and find great material. That was the challenge for me back then, and to be taken seriously as an actor. I was hyper-focused on that."
Little did she know that at age 28, she'd land the role that would forever change her career and cement her legacy in pop culture. It was 1989, and a pilot for a show then called The Seinfeld Chronicles was working its way through NBC. Execs thought it needed a female character, and pretty soon Louis-Dreyfus was cast to play Elaine Benes, Jerry Seinfeld's quick-witted, hot-headed ex-girlfriend. She shot the rest of Seinfeld's abbreviated first season that year, and it aired in 1990.
While it would be tempting to say, "Yada yada yada, the rest is history," Seinfeld wasn't exactly an immediate success. It would take a few seasons for audiences to fall in love with the brand of humor popularized by that little show about nothing. But at 28, Louis-Dreyfus wasn't overthinking it. "I was very driven and very ambitious, but I was also pretty footloose and fancy-free."
Looking back on the past is something Louis-Dreyfus, 62, is also doing professionally, thanks to her podcast Wiser Than Me, in which she gets advice from older women on how to live a meaningful life. Not that she'd change much of her 20s, in retrospect. "When I turned 30, it felt like I couldn't possibly get older than 30. Thirty sounded like proper adult," Louis-Dreyfus says. "When you're in your 20s, you can still — at least this was my feeling back then — you could still f*ck around." So for two more years, she did.
Below, Louis-Dreyfus reflects on joining Seinfeld, being obsessed with Shabby Chic, and her biggest skincare regret.
Take me back to 1989, when you were 28. How were you feeling about your life and career?
I was living in Los Angeles, in Beverly Glen, up in the hills. It was the first house [my husband Brad Hall and I] ever bought, and I loved it. It was a great house.
I had done a series before I did Seinfeld called Day by Day. It ran for two seasons on NBC. It was about a daycare center that was set up in this couple's home, and I was the neighbor next door who didn't like kids — the snarky neighbor. I would come in with the barbs and then I would leave. Although in a lot of ways it was fairly traditional sitcom fare, it was a lovely experience to feel as if the writers had your back from a creative point of view. That was a confidence-building experience for me. So when I went into shooting those first four episodes of Seinfeld, I had a little more ownership of my skill set.
You'd left SNL four years prior, in 1985. Live sketch shows had to have been a totally different environment than sitcoms, too.
Oh my God. Completely different. And when I was at SNL back in the early '80s, it was not a female-friendly environment at all. So this was a different experience altogether, and it was a happy experience. When I got to start working on those first four Seinfeld episodes with Jer [Jerry Seinfeld] and Lar [Larry David], it felt like I was working with friends. We were doing what we thought was funny, not what we were being told was funny. And that was ginormous.
Do you remember what your audition for Elaine was like?
I did it in the most relaxed of ways. I knew Larry because Larry had been on SNL when I was in my third year. We got to know each other there, and we became friends and we were both equally miserable [there], so we bonded over that. And then when I moved back to LA a few years after the fact, I got a call from my agent saying, "These four scripts have come in written by Larry David. I think you know him." So they sent me these scripts and they were, I'm telling you, wildly different than any television that was on then.
I went in and I saw Larry. Jerry was there — I'd never met Jerry before, but we immediately got on and he and I sat on a couch in some little office and we read a scene together. We shot the sh*t for a while, goofing around, laughing. That was the end of it. It was not your standard kind of [audition]. I mean, Jerry was eating cereal, so it was pretty loose.
Fortunately, I was really lucky because I had been on NBC, both with SNL and then with this show Day by Day, so they knew me. So I didn't have to go through the normal network testing experience of going before executives and stuff like that. I was already approved by NBC and I knew Lar, and then I met Jer and we got along immediately, and that was the end of it. We made the deal over the weekend and we started shooting the following week. Lickety-split.
I read that the character of Elaine was added after the pilot because the network wanted a female character. Did it feel like pressure to be the only female main character on the show?
No, I didn't feel exterior pressure. I always felt interior pressure, if that makes sense, not because she was a woman, necessarily. The thing that was great about that show in its best iteration was that it was neutral from a gender point of view. It wasn't like the girl jokes and the boy jokes. You know what I mean?
A fine example of that is the masturbation episode. In its time, it was groundbreaking. I was sure they were going to shut us down over the subject matter. Nobody was talking about that kind of thing — nobody in primetime. So it was nice to just be a team player as opposed to the girl team player. That was a desire of mine, to play ball just like everybody else.
What did you splurge on at 28?
I think this is when that store Shabby Chic was at its peak. [I bought] stuff for the house and making a home. I think I brought a lot of pillows. Floral fabrics everywhere!
What was a typical Friday night out like for you at 28?
I definitely stayed out later than I do now. On Seinfeld, we would always have this tradition. After show night, we would go out to Jerry's Deli in Studio City. We'd all go out and have a big meal and a glass of wine and just sit there and talk about the show that we had just shot. That was very festive. Sometimes it would be quite late at night. If I remember correctly, Jerry's was open 24 hours a day, which is why we were able to go there. It had a New York existence to it.
Do you have any regrets from age 28?
I'll tell you one regret I have, and I hope all your readers pay attention to what I'm about to say: I wish I'd been wearing sunscreen, and I wish I never, ever laid out in the sun, which I did a lot. I paid no attention, and that was a mistake. So if anybody's really smart, they're going to take my advice and wear sunscreen all the time.
Aside from wearing sunscreen, what advice would you give your 28-year-old self?
I would tell my 28-year-old self to please relax and please know it's going to be fine.
What do you think your 28-year-old self would think of you now?
I don't think my 28-year-old self would believe it. I don't believe it. This has been an incredible life I've had thus far. I've got these two gorgeous boys. I've got a husband that I still adore, and I've had a really interesting career, and I feel very fortunate. I mean, a lot of dreams have come true for me, and I'm going to touch wood as I say it because I don't want to jinx it, but I pinch myself when I consider that. Because it might have been otherwise.
This interview has been edited and condensed for clarity.