Is The Nurse Based On A True Story? The Netflix Series Comes From A Denmark Case
Here's everything to know about the new limited series — and the 2015 case it's based on.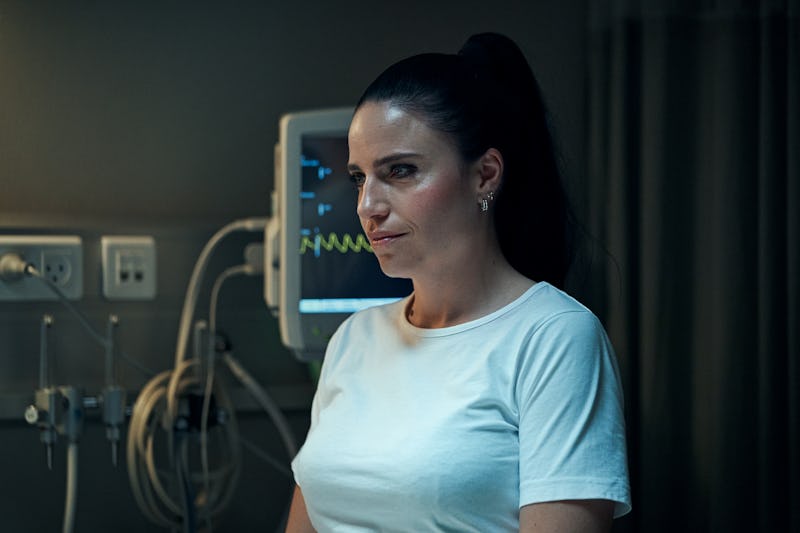 Tine Harden/Netflix
Netflix's new limited series The Nurse follows a nurse who suspects her fellow healthcare worker may be harming patients. Her investigation ultimately helps police uncover evidence of multiple murders, and prevents future victims from meeting the same fate. The premise might remind viewers of The Good Nurse, which premiered on the streamer last year and tells a similarly harrowing story of a hospital whistleblower. Like that film, Netflix's The Nurse is based on a true story — but this one took place in a different corner of the world.
As detailed in Kristian Corfixen's nonfiction book The Nurse, Pernille Kurzmann Larsen was new to Denmark's Nykøbing Falster Hospital when she started having concerns about her fellow nurse, Christina Aistrup Hansen. In early 2015, Pernille noticed that patients took grave, sudden, and inexplicable downturns on Hansen's watch. According to the book, Christina even sent her photos of late patients' toe tags and called it a "scoreboard," which made Pernille "extremely uncomfortable."
But it wasn't until Pernille observed Stesolid (diazepam) in one of Christina's patients' drip lines that she was convinced Christina was intentionally killing people. After confiding in her chief physician, Pernille started monitoring Christina's patients for similarly unusual signs and outcomes. They then notified the police, and Christina was arrested. She was convicted in 2017 of four counts of attempted murder and was sentenced to 12 years in prison.
Yes, several patients were indeed dead — but the High Court ruled "the medication had not been sufficiently proven to be the conclusive cause of death," Corfixen writes.
Christina talked to The Nurse author from prison, telling Corfixen that she did not commit the crimes she'd been convicted of. "One cannot help wondering what you would find if you dug up a hundred people who died in the hospital," she said. "If you checked their medical charts, how much medication you would find in them which wasn't written down, on account of haste, stress, and medication error."
As Sky News reports, several witnesses "said they had suspected Hansen of trying to harm patients long before she was detained." Story-wise, this was especially compelling to The Nurse director, Kasper Barfoed. "What really most of all interested me [was], 'How could this take place over such a long time — when, after the whole thing was revealed, a lot of people seemed to have known about it or suspected it?'" he said in a Netflix interview. "That became the key we always went back to. It's not about just a 'crazy' killer — it's about, 'How does the system prevent us from speaking up or how does the system protect itself?"